Colour:
Bright olive green above; yellowish green laterally and whitish below. 9 or 10 faint grey bars wider than pale interspaces; a black blotch smaller than the eye is located on the upper operculum. Dorsal and caudal fins yellow.
Distribution:
Indo–West Pacific in tropical waters.
Habitat:
Coastal waters including estuaries and mangroves, from the surface to 50 m.
Biology:
Feeds primarily on planktonic invertebrates and crustaceans. Occurs in schools. Size at maturity is estimated to be between 15.0 and 17.0 cm.1, 2 Age at maturity is estimated at 18 months.3 Maximum age recorded is 3.5 years.
Indonesian fisheries:
Caught by bottom trawling, traps and hook-and-line.
Similar species: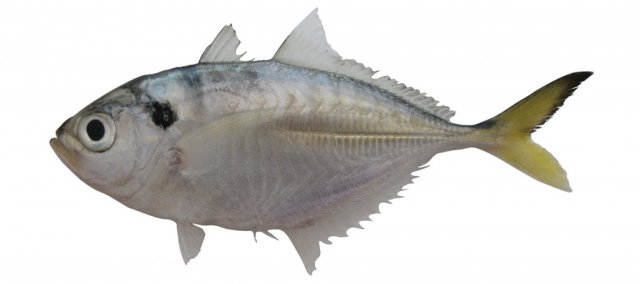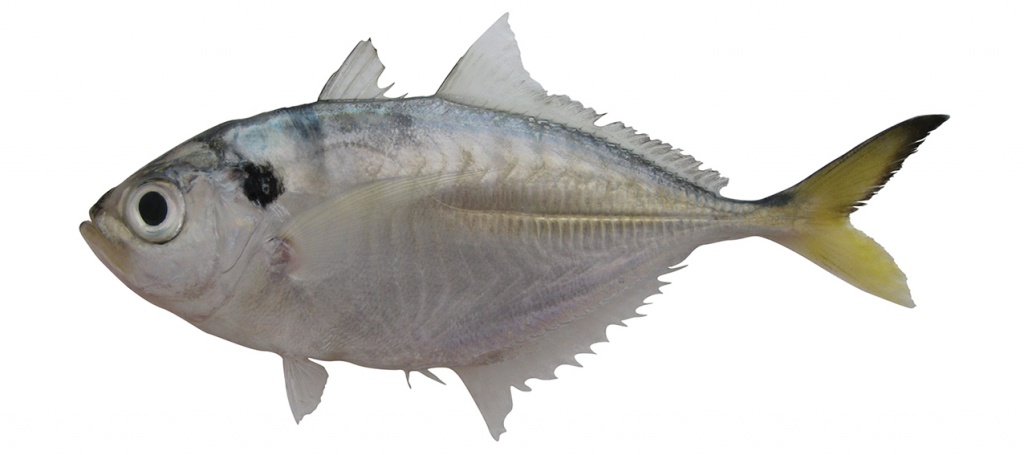 Alepes kleinii
Alepes spp. differ in having a fleshy adipose eyelid well developed posteriorly only, with most of the anterior part of eye exposed (vs. fleshy adipose eyelid completely covering eye except for a vertical slit centred on pupil).
External links:
References:
Clarke TA. Reproductive Biology and Egg Abundance of the Yellowtail Scad or'Omaka,

Atule mate

(Carangidae), in Kane'ohe Bay, Hawai'i. 1996; Available from:

http://hdl.handle.net/10125/2608

Watarai LT. Growth Rate of a Carangid Fish, the Omaka Caranx mate, in Hawaii. Transactions of the American Fisheries Society [Internet]. 1973;102(3):617–20.
×