Colour:
Adults mainly reddish with paler vertical bars. Smaller individuals and juveniles yellowish-brown with bright blue horizontal stripes and faint dark bars on sides. Adults and juveniles without spot on caudal peduncle.
Distribution:
West Pacific in tropical and subtropical waters.
Habitat:
Coral reefs, from the surface to at least 50 m depth.
Biology:
Feeds predominately on fishes. Usually solitary, but has been observed to form large schools. Age and length of maturity is estimated to be 4.8 and 49.0 cm, respectively.1Chinamanfish display a low mortality and longer lifespan2 with an estimated maximum age of 36 years.
Indonesian fisheries:
Caught mainly with handlines.
Similar species:
Symphorichthys spilurus
Sailfin snapper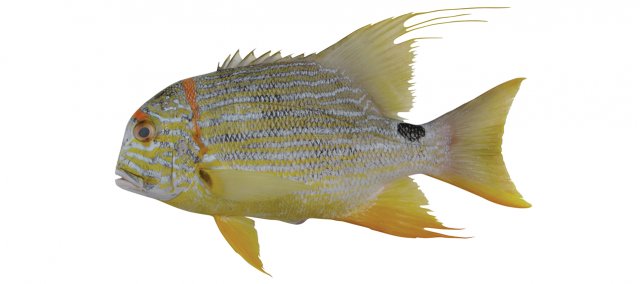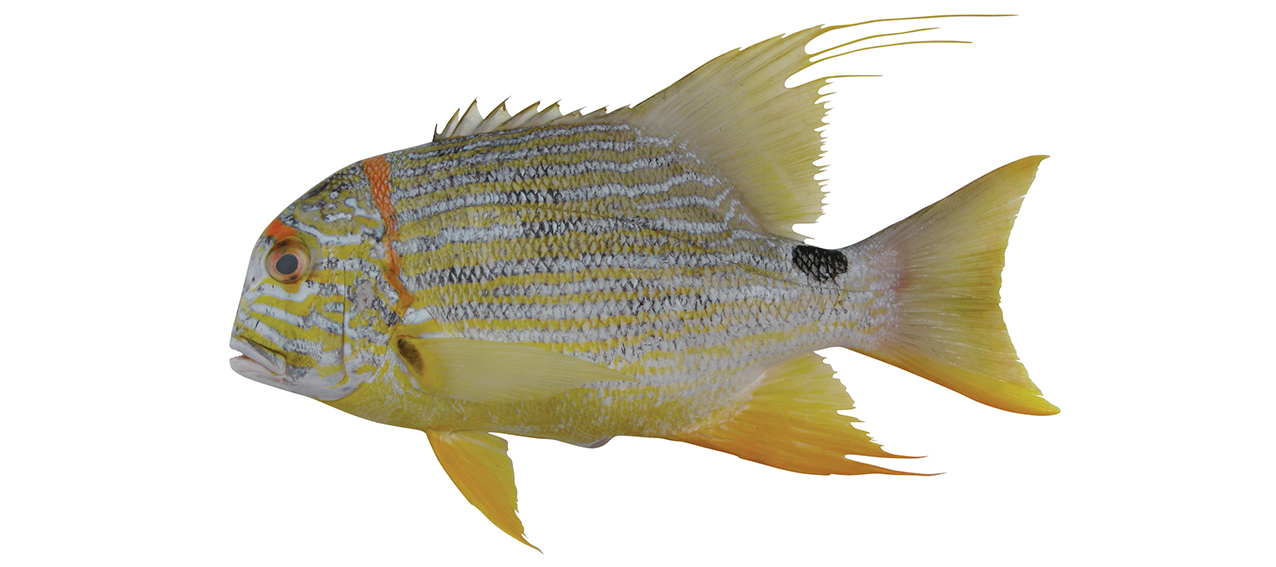 Symphorichthys spilurus differs in having a very deep body (vs. moderately deep); a blunt head (vs. gently sloping); dorsal-fin soft rays forming long filaments in juveniles and adults (vs. juveniles only) and a black spot on caudal peduncle (vs. no black spot).
External links:
References:
Martinez-Andrade F. A comparison of life histories and ecological aspects among snappers (Pisces: Lutjanidae). 2003.
Heupel MR, Williams AJ, Welch DJ, Davies CR, Penny A, Kritzer JP, et al. Demographic characteristics of exploited tropical lutjanids: a comparative analysis. Fishery Bulletin. 2010;108:420–32.
Currey LM, Simpfendorfer CA, Williams AJ. Resilience of reef fish species on the Great Barrier Reef and in Torres Strait [Internet]. Project Milestone report to the Marine and Tropical Science Research Facility. Reef and Rainforest Research Centre Limited, Cairns (32 pp.). 2010. Available from: http://www.rrrc.org.au/publications/unpub_reports.html
×